Grass roots *people* power is unstoppable!
Thank you to the many members of the WSDW who educated yourselves and others about this trade deal, wrote letters, made countless phone calls, talked to your friends and families, attended rallies and protests or pressured our senators and congressfolks to say no to the TPP!  You are the reason that this deal was officially killed and never doubt that your small action combined with many others can have a huge impact in bettering life on our planet as we know it!
West Seattle Democratic Women

Success! The TPP is Dead!
In the midst of doubts and worry about the future, here's some good news: the
Trans-Pacific Partnership
(TPP)
is officially dead
.
The TPP is a huge, controversial "free trade" agreement
negotiated behind closed doors
between 12 countries: Australia, Brunei, Canada, Chile, Japan, Malaysia, Mexico, New Zealand, Peru, Singapore, the U.S. and Vietnam. It's a trade deal made by corporations for corporations that would have loosened workers' rights and had a negative impact on the environment, human rights, intellectual property rights and more.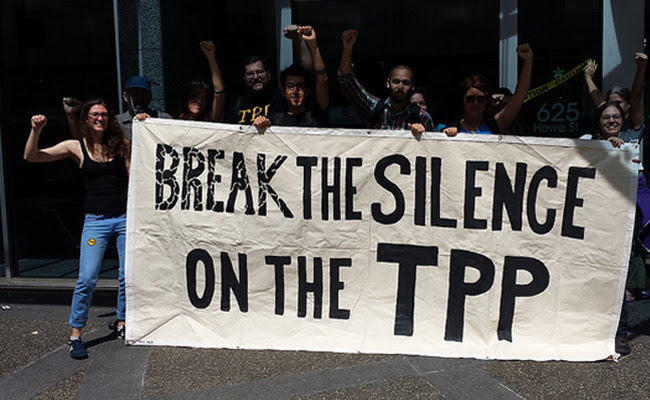 In the face of this alarming proposal, activists have been working hard around the world for over 6 years to ensure that it never becomes law.
Lacey Kohlmoos
, an activist at Care2, 
started a petition
targeting the U.S. Congress and asking them to vote 'No' on the TPP.
Major Success!
Kohlmoos's
petition
garnered more than 16
8
,000 signatures, contributing to the powerful push worldwide to get rid of this agreement.
Here's what she posted:
"Victory!! After six years of hard work, people power has successfully derailed the Trans-Pacific Partnership (TPP)! We have only won this fight because of all of you who signed this petition and shared it with your family and friends, and because of the countless people in many of the other TPP countries who united to beat the corporate interests behind TPP. This just proves that when we the people are united, nothing can stop us. THANK YOU!"
And now that White House officials have admitted that President Obama is no longer pushing the TPP, it is effectively dead. 
As
Lori Wallach, director of Public Citizen's Global Trade Watch program said, "The unremitting push by the Obama administration for the TPP right through this election helped to elect Donald Trump, but Trump

did

not derail the TPP—people power united across borders did that."
A huge shout out to Care2 members and the thousands of activists worldwide who worked to defeat the TPP!
As Kohlmoos's petition explains:
"It (the TPP) is one of today's biggest threats to fracking bans, GMO labels, internet freedom, human rights, access to affordable medicine, and democracy as we know it. It will allow corporations to sue governments over 'loss of expected future profits.' It will make the global race to the bottom even worse for workers worldwide.
For years, multinational corporations like Walmart, Monsanto, and Citibank have been fighting for the TPP. And for years, environmental, labor, faith, food safety, human rights, and internet freedom groups have been fighting to stop it."
The fact that Walmart, Monsanto and Citibank have been pushing it is worrisome enough. But worse, the deal was shrouded in secrecy. S
everal hundred trade advisors, representatives of major corporations, have had access to the treaty, while the public, the press and the governments of those countries were locked out while it was being discussed.
The details were kept hidden even from members of Congress. When they were finally able to see the text, they were forbidden to tell anyone what they had read. It's only thanks to WikiLeaks that we had access to the drafts.
This sounds scarily like the American Legislative Council (ALEC), the association that brings together corporate lawyers and state lawmakers to create bills that benefit corporations and the wealthy.
"The TPP would attack everything you care about and have fought to protect. So join the movement to make sure that trade deals work for the people, not the corporations."
And her petition, along with numerous other actions around the world, has succeeded. The Trans-Pacific Partnership is no more.
Congratulations to all those Care2 members who signed Lacey Kohlmoos's petition.